News
Contractors and Architects Volunteer Together for Good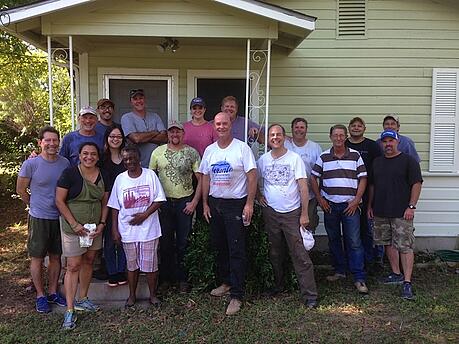 Architects and contractors from Heimsath Architects and Braun & Butler Construction took on a major home repair project as volunteers for Hands on Housing. The early Saturday gathering of nearly two-dozen contractors, architects and family members got quickly to work on a number of repairs for an elderly East Austin homeowner. By the end of the day, a back porch was re-structured and repaired, rotted boards were replaced with matching siding, trees and bushes were trimmed, and the entire house was repainted with bright new colors.
Along the way, several additional needs were identified. The crew not only cleaned and reset gutters and downspouts, they also added gutter guards to prevent more leaves from future clogs. Exterior light fixtures were reset and new bulbs added. Finally, the old street numbers were removed and a new set placed near the door used most frequently by the homeowner.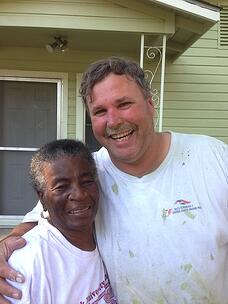 Hands on Housing is a service program coordinated by the Austin non-profit, Interfaith Action of Central Texas (IAct). Twice a year, volunteer groups are assigned to work on major repair projects for needy homeowners. Most of the clients are older, long-time residents who live on fixed incomes. The goal is to keep homeowners safe and help them remain in the homes and the neighborhoods they love. In nearly two-and-a-half decades of service, Hands on Housing volunteers have repaired over 1,400 homes.
Many thanks to Richard Peña of Heimsath Architects and Kaci Roberts and Kyle Pearson from Braun & Butler for recruiting volunteers and coordinating the day's activities. If you are interested in participating in future Hands on Housing events, contact Deborah Schagan, the program coordinator at IAct, or contact us at Heimsath Architects for details.
AISD Conducts Media Tour of Jaime Padron Elementary School
The Austin Independent School District held a media tour of the new Jamie Padron Elementary School at 2011 W. Rundberg Lane in North Austin on Tuesday, July 22, 2014.
The District's newest and largest elementary school posed a number of unique challenges. The new facility is an adaptive reuse of an empty warehouse and manufacturing facility. The new school had to accomodate over 55 classrooms and meet a demanding schedule to open for the 2014-2015 school year. The design solution inculded the insertion of a second floor within the building envelope. The classrooms are organized around major interior corridors with skylights providing natural daylighting. Sunlight is provided to all instructional spaces through interior windows connecting to the main corridors.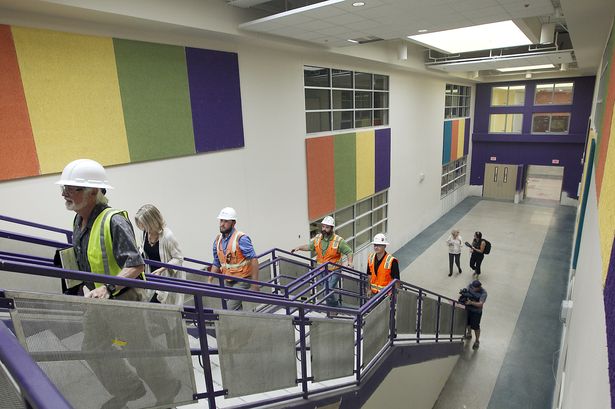 From Site Selection, Planning and Schematic Design through the end of Construction, Heimsath Architect's role (in joint-venture with Architecture Plus) has included the design, the layout of all spaces inside the existing structure, and the lead role in Construction Administration.
Through close collaboration with the contractor, consultants and the City of Austin Permitting Department, the Jaime Padron Elementary School will be ready for the start of class on August 25. In recognition of its excptional sustainability features, the School is slated to recieve a LEED Gold rating.
Photo by. Meng Cao/KUT News
Below are some of the news publications mentioning the project.
KUT:
http://kut.org/post/photos-inside-aisds-new-performing-art-center-jaime-padron-elementary
KVUE News:
http://www.kvue.com/story/news/local/community/2014/07/22/aisd-new-elementary-school-jaime-padron-performing-arts-center/13018527/
KXAN News:
http://kxan.com/2014/07/22/austin-isd-set-to-open-two-new-facilities-in-coming-months/
TWC:
http://austin.twcnews.com/content/news/303430/aisd-shows-off-2-new-facilities/
Austin American Statesman:
http://www.statesman.com/photo/news/local-education/jaime-padron-elementary-school/pCLhPs/
http://www.statesman.com/photo/news/local-education/jaime-padron-elementary-school/pCLhPK/
http://www.statesman.com/photo/news/local-education/jaime-padron-elementary-school/pCLhPh/
http://www.statesman.com/photo/news/local-education/jaime-padron-elementary-school/pCLhPC/
Heimsath Architects Hosts Neighborhood Planning
Neighbors and property owners came to hear a presentation from the Public Interest Design studio at UT Architecture School. Professor Coleman Coker provided his students with suggestions from the neighbors regarding traffic, storm water, and pedestrian connections.



The resulting recommendations were both comprehensive and innovative. The plan calls for the length of EM Franklin, from Manor Road to MLK be converted into a green street. A series of collection points will channel rainwater runoff into rain garden basins for detention and natural filtration. The width of the roadway will be significantly narrowed, as is appropriate for a neighborhood street. This will reduce the speed on the street, and may discourage the current volume of cut-through traffic.

Other details included the placement of public art, a new walking path, and a community pavilion at the northern end of the street. The plan was enthusiastically received. Neighbors will be working with various City of Austin departments for ways to implement the comprehensive strategy.
Heaven's Kitchen in Austin Home Magazine

A request from a neighbor for a new addition has become a striking, light-filled kitchen which is featured in the current issue of Austin Home Magazine. Eric MacInerney designed a simple, unified space under a dramatic, upward sloping roof. The modernist design is complimented by selections from interior designer Laura Burton. A bright red beam replaces the old exterior wall, holds up the roof intersection, and connects to the updated living room.
Here's a link to the article: Heaven's Kitchens: Big and Bright
St John Lutheran Church in Boerne Dedicates New Education Building
St John Lutheran Church in Boerne, Texas dedicated the new Education Building, Sunday, April 6. The two-story structure provides a large number of flexible classrooms and meeting spaces, greatly increasing the congregation's ability to provide for ministry activities.


Heimsath Architects developed the original master plan for St John Lutheran Church in 1997 and worked with the congregation on an update in 2009. This is the second major building program developed by Heimsath Architects with Keller Martin as the general contractor. Previous work included the church's worship space, fellowship hall and administration wing.

The Messenger, the church's monthly newsletter, included this expression of appreciation for both firms:
"We have been most thankful for the excellent work done by our Architects, Heimsath Architects of Austin, our Construction Company, Keller Martin of San Antonio and all of the sub-contractors and providers. Indeed it is an excellent building, well designed and well-built and will be a blessed facility for learning for many years to come."
AISD Breaks Ground on Adaptive Reuse for New Elmentary School
Neighbors, Board Members and dignitaries helped to break ground on AISD's innovative new school in North Central Austin. The program is an adaptive reuse project - turning a vacant commercial building into what will be one of Austin's largest elementary schools.

Heimsath Architects, in joint venture with Architecture Plus, has been working for over a year with AISD and Flintco Construction to bring the badly needed facility on line to relieve crowding in surrounding schools. Construction is scheduled to be completed for the 2014-2015 school year.

Get a pre-view of the new school and some of the major spaces. Here's a computer-generated walk-through video – jointly produced by Heimsath Architects and Architecture Plus.

See Ben's recent blogpost about the adptive reuse school and some of the early interest it has generated as a landmark project.
Groundbreaking at Abiding Love Lutheran Church
The Abiding Love Lutheran congregation celebrated with a groundbreaking for the renovation and expansion of the Fetter Activity Center. The current structure has seen decades of use, providing for the community with a wide variety of uses. The new construction will expand and improve the Center with a new commercial kitchen, new air-conditioning systems, new storage, and an expansion and re-configuration of the main multi-use space.
Public Visioning Session for Wells Branch Residents
Heimsath Architects conducted a Public Visioning Session to generate ideas for expanding the existing Recreation Center. The Session was open to all residents of the Wells Branch Municipal Utility District as part of a broad public input process.
Board Chair, Donna Howe called the meeting to order by welcoming the residents and introducing the Heimsath Architects team of Ben Heimsath, Eric MacInerney and Li Tong.
Residents had been asked to participate in a survey to register their support for different programs, or to suggest new idea for improvements. Ben presented a preliminary summary of the survey results indicating broad support for a range of expansion options.
The architects then facilitated a "walk and talk" exercise where the attendees broke into smaller groups to tour the existing facility. Attendees reconvened after their tours and listened summaries of the conversations and observations from each group.
The input from the Public Visioning Session will be utilized to develop specific program recommendations for the Board to consider for approval.
Texas A&M Jury on Sea, Spirituality, & Sustainability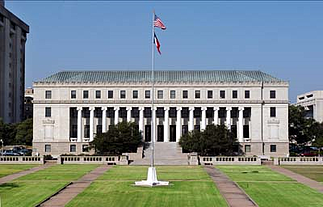 Eric MacInerney and Ben Heimsath were guest lecturers and guest jurors at Texas A&M at the end of April. First, they gave a presentation to professor Anat Geva's seminar class on history and the design of sacred architecture. Eric presented background information on temples in the Hindu tradition and explained the firm's process in working with the Austin Hindu Temple. The Temple is currently under construction and will be dedicated this summer.

Ben and Eric then joined the jury for the joint studio of both the architecture and the construction sciences departments. Entitled, "Sea, Spirituality, and Sustainability," student teams were asked to develop a design, construction program, and final presentation for a hypothetical spiritual center on a coastal site.

The jurors spent several hours evaluating both written proposals and the team's verbal presentations. Overall, the work and enthusiasm of each team was applauded by the jurors. The special challenges of the multi-discipline studio made for some interesting exchanges considering both design and construction issues.

The all-faiths program, both the practical and aesthetic, presented additional challenges. The design solutions ranged from bold, but impractical spaces to well-considered multi-functional rooms. In nearly all the solutions, the students revealed personal expressions of spirituality and place, forgoing references to specific tradition or denomination.

Many thanks to the students, the group of guest jurors, and especially professors Anat Geva and Jim Smith for a most interesting event.
Our Lady of Guadalupe Historic Preservation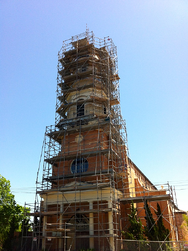 The preservation project at Our Lady of Guadalupe in Austin is nearly complete. This week, the scaffolding will come down! With months of intensive work, a range of issues were addressed, including badly needed restoration of the historic church steeple. See our blogpost on the progress of the cupola restoration and the challenge of removing a massive hive of bees!
Texas Architect Feature - A Visit With Clovis Heimsath, FAIA
The folks at Texas Architect Magazine spent some quality time with Clovis and Maryann Heimsath recently. They interviewed and photographed at the office and at their home in Fayetteville, Texas. The feature in the current issue is delightful and really gives the reader a sense of their very special world.
Many thanks to Texas Architect's new editor, Catherine Gavin, who made this link to the January 2013 issue available.
Clovis also shares his thoughts on the revolution in Architectural 3D design in a recent blogpost.
Fayetteville, Texas Honors Maryann & Clovis Heimsath
What a great celebration in Fayetteville, Texas! Maryann and Clovis Heimsath were the Grand Marshals of the annual Lickskillet Day parade. The town honored them as winners of Preservation Texas' prestigious award in recognition for life-time efforts in support of historic preservation. The Clara Driscoll Award, named for the preservationist who saved the Alamo, was conferred on Clovis and Maryann this summer for achievements in historic preservation.

The couple were early advocates for the restoration and preservation of historic Texas structures. Their breakthrough publication, Pioneer Texas Buildings, published in the 1960's, inspired a generation of preservationists in Texas and the Southwest. The family's work as advocates for Houston's inner city was acknowledged. Clovis and Maryann's love for Fayetteville, Texas, and their many decades as proprietors of the Country Place Hotel continue to set high standards for the preservation of communities and landmarks.


Over 1,000 Tour Purple Heron Residence on AIA Homes Tour!
This year's Austin AIA Homes Tour exceeded all expectations! Eric MacInerney's Purple Heron Residence was toured by over one-thousand visitors. The design is a contemporary update of a traditional craftsman-style home. It features many traditional art-and-crafts details with an open floorplan designed for contemporary living.

The home also features many innovative green building technologies, including a roof-top solar panel array. Austin Energy awarded the project its highest 5-Star Green Building rating. During the tour, the windows were open and the house remained cool the entire time without any air-conditioning!
The two-day event featured 13 homes from AIA member architects. The annual event is a major fundraiser for the Ausitn AIA Chapter. According to event organizers, this year raised the most money ever!
The MacInerney's cat, Brazilia, entertained visitors as they toured her home.
Adapting House Design to Local Environment
On one of our current houses we have gone beyond the traditional vented crawl space. In hot humid climates, typical crawl space venting brings warm humid outisde air into the cooler spaces under the house. This causes condensation and thus a more moist environment.. For this home, we designed a conditioned, sealed, crawl space with controlled air circulation. Listen to local green builder Matt Risinger talk about this ingenious approach...
The Purple Heron House was on Austin AIA's 2012 Homes Tour. Here's a link to the Austin AIA webpage with a wrap-up of this and past year's tours.
News 8 Austin Covers Dedication of
First Baptist Church, Dripping Springs
A fire set by arson destroyed the sanctuary three years ago. But on Sunday, the church dedicated a newly-constructed sanctuary that had never looked better. Now a new aisle, new pews and new windows adorn the building built from the ground up. Members paid for it themselves.
The church has been around since 1901. "You love coming into Dripping Springs, coming over the hill and seeing the steeple," former member Pam Owens said of the new building. "You love hearing the bell." "My parents grew up in this church, my grandparents went to this church, so it's been our church home forever," church member Charlie Haydon said. "I just felt the call I had to do what I could."
A picture says a thousand words...
Animated Walk Through of the proposed circulation upgrade Master Plan for Hillcrest Baptist Church in Austin, Texas.
Eric did an amazing job on this. Congratulations! As we presented this video, one congregation member did want us to remind everyone that we won't actually be putting tables on real grass in the atriums. I assured him we'd share this note.
Video created by Heimsath Architects.
Historic Restoration
Outstanding Construction
Award for Historic Restoration at University United Methodist Church in Austin, TX. Sandy Stone, Project Manager, reports that after winning both local and state awards the UUMC project has now gone onto national competition.