Working with a couple and their two children who had lived in a smaller house on this lot for over 10 years, Heimsath Architects designed this 5-star (Austin Green Building) custom home to have a variety of spaces while still keeping everyone close enough for easy communication.
Given the existing trees, playscape, and grading, the new two-story house sits almost exactly on the footprint of the previous single-story house. The double-height great room provides informal dining and gathering space as well as communication and connection to the more private rooms.
Airflow through the house and great room was a very important criteria. The design allows the family to naturally ventilate and cool the house through much of the spring and fall. See the blog post from Eric MacInerney - "Residential Design Tips: Coaxing the Wind."
Similarly, natural lighting combined with energy efficient lighting and controls create a comfortably lit space with much lower energy use. The large front porches shade the house while also providing additional play space upstairs and a place for impromptu neighborhood gathering downstairs. With access to the back yard, the screen porch provides a more intimate setting for outdoor dining and many of the kids' art projects.
The details and colors of the house combine contemporary design with Arts and Crafts detailing. Wood trusses and trim-work provide rich warmth and the lighter stains and paint colors make the space bright, crisp and clean. A variety of built-in shelves, cabinets, and spaces create places for the family's ever-growing collection of books and helps to fight the tendency towards clutter.
In edition to recieving a 5 Star Green Building Rating from Austin Energy, the Purple Heron House was featured on the 2013 Austin Cool Homes Tour.
The Purple Heron House was also featured on the Austin AIA's 2012 Homes Tour.
Check out the AIA's webpage for more information.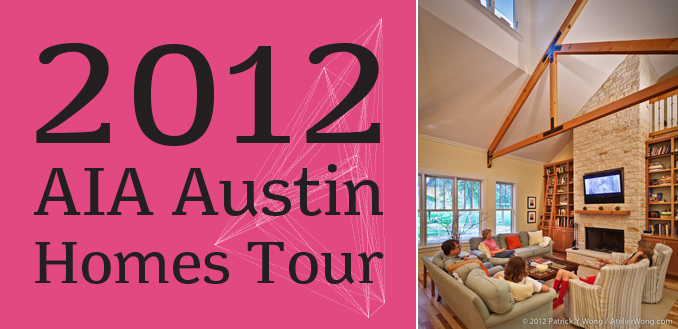 We've assembled responses to the most frequently asked questions about Residential Green Buidling. Download your answers here.